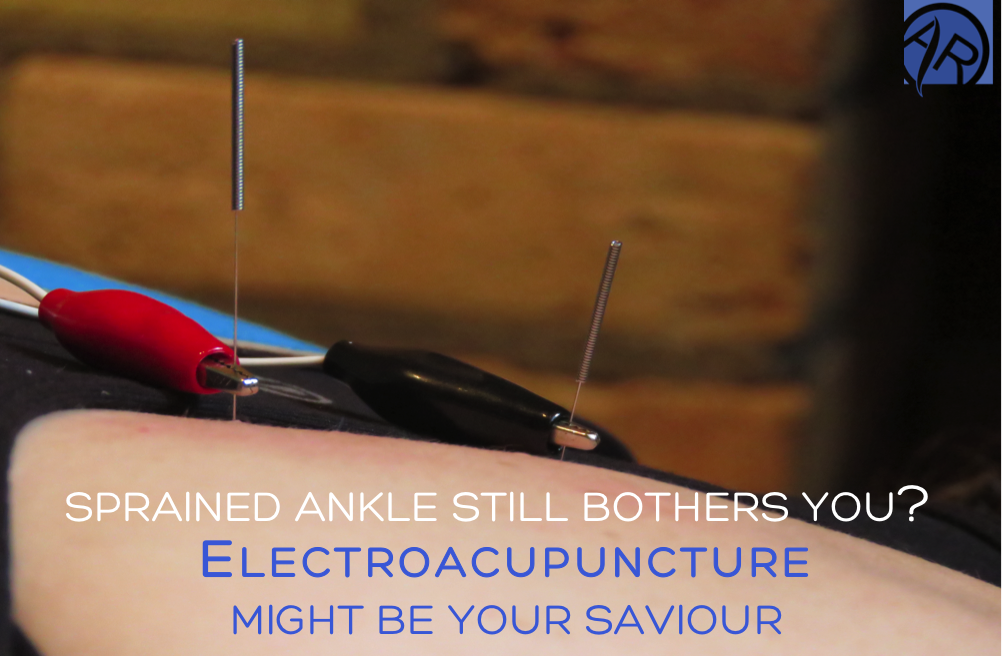 23 Jun

Electroacupuncture A Must For Ankle Sprains
Summer In Toronto Means Ankle Sprains
Now that the abominably cold days of Toronto winter our behind us, summer is upon us, the sun is out, the guns are out, we are venturing out to finally be active once more, and participating in our favourite sports, and activities. With an increase in the amount of running people are doing, whether for sport, or for exercise, there will be invariably be more ankle sprains. One day last week I saw four separate patients in one day for a recent or exacerbated ankle sprain. This is no surprise given that it is likely the most common injury in athletics, and happens over 20,000 times a day in the US. That's right, 20,000 times a day!
Ankle sprains are a huge problem for any athlete and for our medical system. They cost us millions in unneeded medical visits and bother athletes throughout their amateur or professional careers. Repeated ankle sprains are known to lead to early osteoarthritis in the ankle and also more ankle sprains; a history of inversion sprains is the greatest risk factor for future ones. Even with "standard" rehabilitation programs, most will go on to sprain their ankle again.
During our training in neurofunctional acupuncture at McMaster University, we repeatedly heard how acupuncture and electroacupuncture are the panacea and holy water of ankle sprains. I was a little sceptical at the time, but have gradually been shocked at how well it works for reducing the pain, swelling, and loss of function in these patients. Not only that, it works incredibly well to restore the well documented loss in strength, sensation and proprioception (the ability to know where at joint is in space) associated with this injury.
[youtube=https://www.youtube.com/watch?v=Tix_lHYn6lA]
I believe that electroacupuncture is an absolute necessity in the rehab process of any ankle (ATFL – inversion) sprain and that it is essential to restore lost function in most cases. You may also be interested to read about how it works in general.
Here is why:
Whenever one "rolls an ankle" and suffers an inversion-sprain to the anterior talofibular ligament (ATFL), the nervous system is also impacted greatly at, and well beyond the actual ankle.
Because of the actual damage to the ligaments and soft-tissues of the ankle, which are very rich in pain-sensitive nerve fibres, they become very painful. Anyone who has suffered an ankle sprain can attest to this. = PAIN
Electroacupuncture

works incredibly well to

calm down these pain conducting fibres a

nd reduce pain levels at the site of injury
Those same people will also attest to the fact that the ankle and the muscles that move it, become very weak with an inversion sprain during and after the presence of acute pain. This is the result of arthrogenic inhibition, in which the inflammation and pain signals from the ankle reflexively shutoff the nerves that power the muscles of the ankle in order to avoid further damage. The joint is saying to the nerves "please do not move the ankle so you do not hurt it again".  = WEAK
Electroacupuncture

can be used to stimulate these muscles to r

educe the degree of inhibition and restore normal strength
A rarely recognized fact is that during an ankle sprain, there is also injury to the nerves travelling on the outside of the leg and ankle, which become stretched past their regular length as the ankle is rolled over. Specifically, the fibular or peroneal nerves, have been well documented in the literature as being subject to injury during all degrees of ankle sprains, which interrupts their normal physiology and reduces their function. As a result, the fibularus muscles, which evert and stabilize the ankle, are left severely weakened. Furthermore, damage to these nerves leaves lasting reductions in proprioception, sensation, and ankle  stability, which is part of the reason for the high recurrence of ankle sprains.
While it is beyond the scope of this article (though acupuncture has been shown to help with these things too), neurophysiological research has also demonstrated that after an ankle sprain, there are changes that occur in the nervous system at the level of the spinal cord and supraspinal centres that;
increase the likelihood of chronic ankle pain from nervous system rewiring (central sensititization)
result in altered gait and movement strategies  that persist even beyond "healing" of the injury
result in weakness of muscles proximal to the ankle, namely the gluteal and hip musculature
When I test a patient with a history of ankle sprains, there is rarely a need to ask, what ankle it was, because the involved ankle almost always tests very weak in resisted ankle eversion. Even in patients that have properly rehabbed an old ankle sprain, there is invariably some weakness and reduced proprioception at the ankle. Because most rehab programs do not incorporate acupuncture, which works to restore the normal function of the nervous system, and return strength at the neurological level, the healing is incomplete. As you will have seen in the video, our patient, who runs half-marathons for breakfast, had significant weakness  years after a bad sprain. 
A recent systematic review was published in 2015 that demonstrated that the use of surface electrical stimulation (TENS, IFC, neuromusculaur stimulation [NMS]) had little to no benefit for pain, swelling or function when added to the standard treatment of ankle sprains. To me, this is not surprising because it is very difficult to target specific tissues and structures with these treatments that use large and broad shaped electrodes. Additionally, this techniques rarely allow for deep penetration of the electric signal to the level of the involved muscle, ligament or nerve.
Whereas with acupuncture, the needles can be painlessly inserted next, or into the tissue that is injured or problematic. In the case of ankle sprains, needles can be directly inserted into the ATFL, to dramatically reduce or stop pain by calming down the ligament's nerve fibres.
We can specifically target the injured deep and superficial fibular nerves to restore their normal function for maximal strength and proprioception. And finally, electrical stimulation of the fibularis and anterior leg muscles, can restore strength and function to these muscles so that they perform as they should during and after the rehab process.
Even with rehab that includes strength training and proprioception, re-injury rates are still high for ankle sprain sufferers. I believe that part of the problem is that the nervous system tissues are never properly healed at the level of the injured tissue, supporting musculature or spine. When  the ankle is pushed to its limit, the nervous system is not healthy enough to protect it and re-injury occurs
It has been amazing to be able to help a number of patients who have suffered from chronic ankle pain for months or years. The electroacupuncture combined with rehab and other manual therapies works quite well to get patients back to doing the things they love, and in a fraction of the time they have spent with other therapeutic techniques.
While no treatment is foolproof, we should always be striving to actually attend to whatever physiological consequences result from a injury and treat them in a way that makes sense. When you are talking, pain, nervous system injury and ankle sprains, electroacupuncture just happens to make a lot of sense and help people a lot.
[contact-form-7 404 "Not Found"]