22 Mar

Why Your Neck & Shoulders Are So Tight And The Antidote For It
A SITTING ANTIDOTE TO YOUR DESKLIFE
Dr Alex Ritza – Your Downtown Toronto Chiropractor
CHIROPRACTIC CARE CONVENIENTLY LOCATED NEAR YONGE AND BLOOR
RATED ONE OF TORONTO'S BEST CHIROPRACTORS ONLINE
---
What weighs more, a 16-pound bowling ball or a 12-pound human head? Hint – it is a trick question because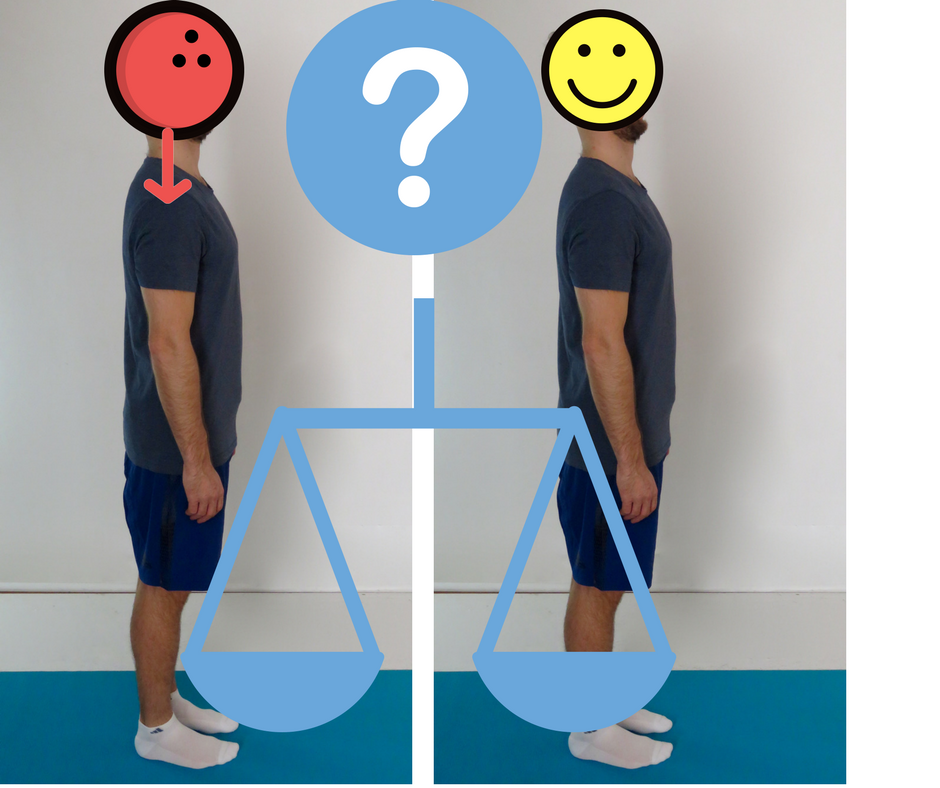 That bowling ball on top of your neck is heavier than you think. The question is misleading because the weight of an object is totally dependent on the forces that are acting on it.
A 16 lb. bowling ball is always going to weight 16 pounds if it is sitting on a scale on planet Earth no matter what!
On the other hand, the weight that your head exerts on your neck, shoulders and the rest of your spine is very dependent on the position it is in!
If your head is sitting directly supported on top of the neck and spine then the head is going to exert a force of about 12 pounds.
But something pretty crazy happens as your head careens forward to read this sentence with great interest. The farther forward your head moves away from your centre of gravity the more it weights, without its actual mass ever changing.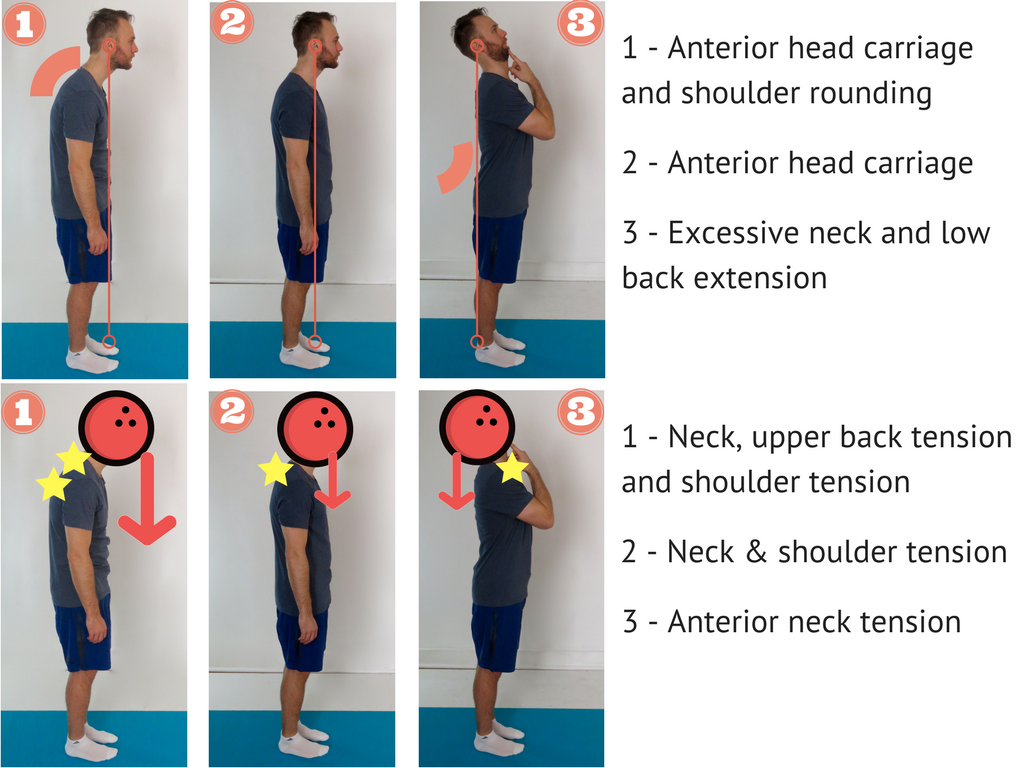 This is because the head applied torque to the neck and the rest of the spine. Torque is calculated as amount of force applied at a distance away from the axis of rotation, which means that the longer the lever-arm, the more torque gravity produces for the same object. Torque is why a skinny person can raise a sumo wrestler on a teeter-totter if their arm of the see-saw is long enough.
This means that when your 12 pound skull is sitting 6 inches from perfect posture every time you check your phone or are reading your computer screen, it exerts 12lb x 6inch = 72 inch/pound of torque!
Some studies has calculated that the skull can actually weigh up to 20 or 30 ponds more with poor posture than when it sits nicely on top of the neck with good posture.
Interesting factoid but why does this matter? Because something has to hold our head up so that it doesn't topple over. Unfortunately the responsibility of this falls onto the muscles, joints, ligaments and nerves of the neck and shoulders!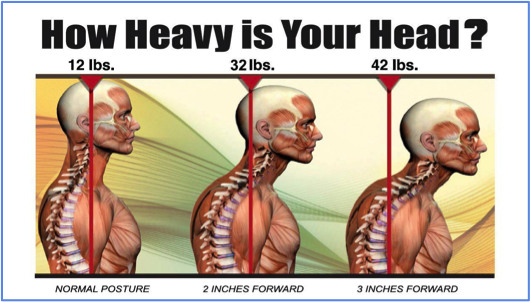 While this is okay for temporary spans and is something that almost everyone is guilty of, a tremendous problem occurs when the stabilizing muscles of the neck and shoulder that are meant to support your now-fat-head fatigue and begin to weaken.
Even the strongest person in the world will reach a point when the muscles fatigue and partially turn off.  At this fatigue point, the static ligaments, joints, and connective tissues connecting the neck to the body support the weight of the head.
With time this causes two things you might have noticed:
1) The muscles in the neck and shoulders become very tight. The tightness is the body's response to try to produce extra stiffness and strength to support your head. It is the equivalent to adding extra duct tape for support as it might work in the short term but is an insufficient fix past that.
2) Repetitive strain and injury
Repetitive strain is the primary culprit for many of our aches and pains suffered during the #desklife. When a human tissue is subject to either continuous or repeated load at a level greater than its physical tolerance, it will deform or stretch.
The body is well evolved to acutely handle high stress that can stretch and deform a tissue, and can even heal repeated microtearing like that we see with weight training, it can reach a point where it outpaces the body's healing capacity. When the body cans no longer repair tissues at a faster rate than they are "damaged", there will be injury and pain.
Three great examples of repetitive strain:
1) Studies have shown that baggage handlers are at significantly higher risks of low back disc herniation because of the combined bending, lifting and twisting motion required by their job. This motion used to lift luggage causes repetitive compression, rotation and shear forces to be absorbed by the lumbar intervertebral discs that will cause the discs to slowly degenerate, then tear that rupturing of the disc's internal contents.
2) Ever had to sit in the first row of the movie theatre with your neck and gaze protracted skyward? It doesn't feel very nice after two hours does it? No! And why?
Because any time the human body is forced to maintain the same position for a prolonged period of time the repetitive strain that those tissues absorb lead to micotrauma to the tissues, irritation of the nerves and resultant pain and stiffness.
3) Headaches: Chronic forward head carriages cause repetitive strain to the suboccipital muscles at the base of the skull, which has been directly linked to chronic tension and cervicogenic headaches.
Whether we are talking about baggage handlers, movie latecomers or the desklife it is safe to do these things finitely but repeated strenuous activity is precarious for the spine.
So what do you do to save your neck, "shrink your head" and stop the strain?
PERFECT YOUR POSTURE and MOVE!
Perfecting your posture will ensure there is less strain from trying to support the head or other postural faults.
Our suggestion is that you first check your posture, spine and major joints by using our Sitting Antidote Movement Screen to see how the #desklife is affecting your body!
---
WANT TO KNOW WHAT YOUR #DESKLIFE IS DOING TO YOU AND HOW TO FIX IT?
WANT LESS PAIN, MORE STRENGTH AND BETTER FLEXIBILITY
WANT TO RECEIVE THE FULL SITTING ANTIDOTE MOVEMENT TEST KIT FOR FREE?
GET ALL 9 TESTS AND AN ANTIDOTE TO YOUR SITTING WITH OUR FREE GUIDE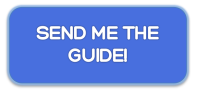 ---
WHY? Because it is impossible to create an antidote and know what movements to do if you do not know exactly what your body needs! Use our Movement screen to perfect your posture
Movement and doing it regularly is the other key to reducing the repetitive strain on the neck, shoulders and spine
Don't know what to do at your desk to get a little more movement and take some strain off of your neck and shoulders?
Well here are three fantastic Sitting Antidotes that are doing to save you and your spine!
THE BRUGGER EXERCISE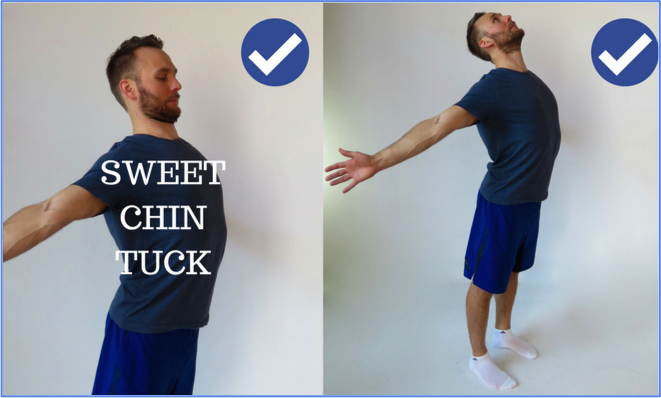 This movement can be used to strengthen or as a relief position to interrupt a stagnant forward posture.
It is meant to activate the core and back muscles that are too relaxed and stretched, and to unload the shortened muscles while we sit. As an example, the Burgger drill will unload the tight hip flexors, activate the glutes, and engage the back by activating the rhomboids and posterior deltoids when the arms come back.
STEP 1: Stop working or Facebooking
STEP 2: Stand up and stand tall
STEP 3: Clench your glutes (Cue: Squeeze a penny between your butt), tuck the chin, stick the chest out
STEP 4: Extend the wrists, arms and shoulders to bring them back into a "cross position"
STEP 5: Clench the back of the shoulders and bring the shoulder blades together
STEP 6: Hold and Enjoy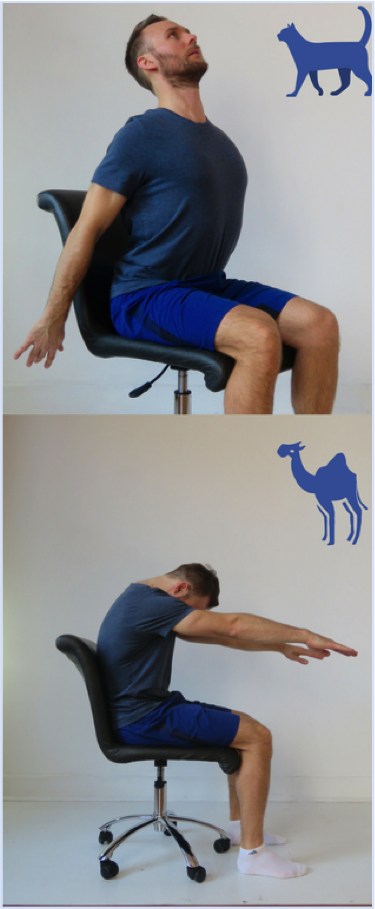 SEATED AND STANDING CAT-CAMEL – SPINAL MOBILITY EXERCISE
SETUP: Seated with knees and back a hand length away from contacting your chair
Transition slowly between the Cat and Camel positions after holding each position for a 2-Mississippi-count
CAMEL
Head is flexed forward toward chest
Upper back is rounded forward
Arms and shoulders reaching forward – with wrists flexed
Lower back rounded & pushed toward chair back with the pelvis titled backwards by sucking the belly button towards the spine
CAT
Head is arched back
Arms, shoulders and wrists are extended backwards
Chest and belly are pushed forward by arching the mid and low back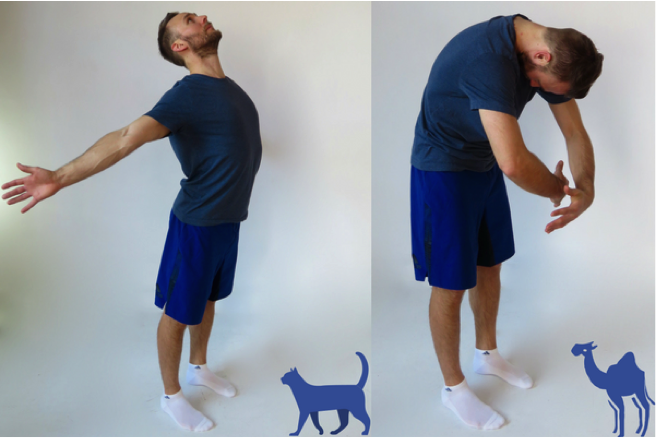 SHOULDERS BACK AND DOWN
Learning to retract the shoulders back and down can be difficult at first but will become habit with routine practice. It is easiest to learn by first practicing on the ground or seated to minimize the influence of gravity. When you feel more confident and strong start to practice all the time; when standing, lifting weights, sitting at your computer or giving a presentation!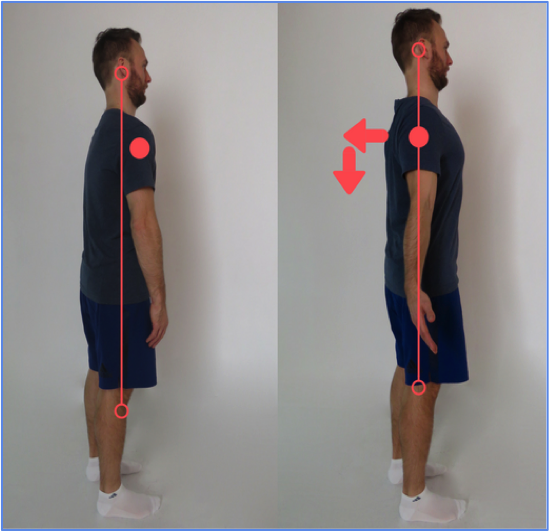 Cues: Try pinching your shoulder blades together
Imagine: (or place) a rolled up towel along your spine and between your shoulder blades. Try to pinch and hold the towel in place with the shoulder blades "Put your shoulder blades into your back pocket" or "Bring the shoulders back and down".
TURN SHOULDER RETRACTION INTO A STRENGTHENING EXERCISE BY:
Hold the BACK AND DOWN POSITION for 10 seconds initially and work up to 60 seconds.
Hold at 50% maximum contraction         |          Repeat for 3 sets of 10-30 seconds
Recommended frequency: Every hour while you sit or stand at your desk
THE SITTING ANTIDOTE (check out this video for more) is our solution to address specific health requirements that an office job compromises. We have designed a comprehensive program consisting of a 100+ page Sitting Antidote E-book, 60 minute Wellness Workshop and a 50 + instalment Instagram series to help combat the serious health consequences of a sedentary office job. We have designed a comprehensive program that changes your workout day into a workout by curating specific drills to address the different movement requirements of the body that your job doesn't fulfill.
If you have ANY CONCERNS ABOUT YOUR LONG TERM HEALTH resulting from sitting I highly encourage you to try these three drills from our Sitting Antidote Mobility Program!
If you had any trouble with the Mirror Test or any of the other 8 Sitting Antidote Movement Screens in our FREE GIFT, we would like to help you.
Follow Dr Alex Ritza on Instagram for daily Siting Antidote updates
Join us for a Sitting Antidote Wellness Workshop at Park Roading Healing Arts in April and May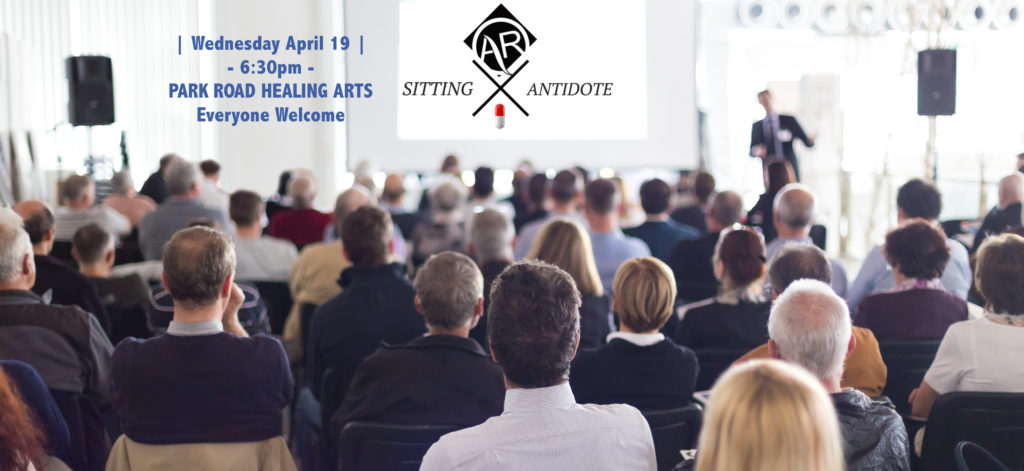 Bring the Sitting Antidote Wellness Workshop to your office. E-mail Dr Alex at dralex@dralexritza.com
Contact Dr Alex or our team at Park Road Healing Arts to book a free consultation or to simply start a conversation about getting help you might need.