Corrective Chiropractic Is Different
We believe in fixing the underlying cause of problems and not merely masking the symptoms of that problem.
Whether a patient is looking for relief from neck pain, back pain, elbow pain, headaches, migraines or relief from any other joint, muscle or nerve pain, the key is to address the problem that is causing those symptoms

If we want to truly get better, the approach should never be to just focus on the pain. Yes, there is pain, but what differentiates us from a "traditional chiropractor" is that we figure out why it is there and what Core Problem is causing it.
Unlike  "traditional chiropractors" that tend to focus on pain and Band-Aid fixes, we treat the body as a whole and see the importance of the spine and the spinal cord that it houses. Few problems occur without some dysfunction of the nervous system, which explains why our NeuroStructural Restoration Program has been so successful with our patients. 
NeuroStructural Restoration means making corrections to the spine and nervous system to improve your Structure (posture) and Nervous System Function to clear your Brain-Body Connection so that the body can function as it is meant to. If there is a joint, nerve or muscle they are connected to, we can usually fix it!
Toronto's Best And Most Comprehensive NeuroStructural Physical Assessment
Chiropractic Care Done Differently
It Is A Comprehensive Approach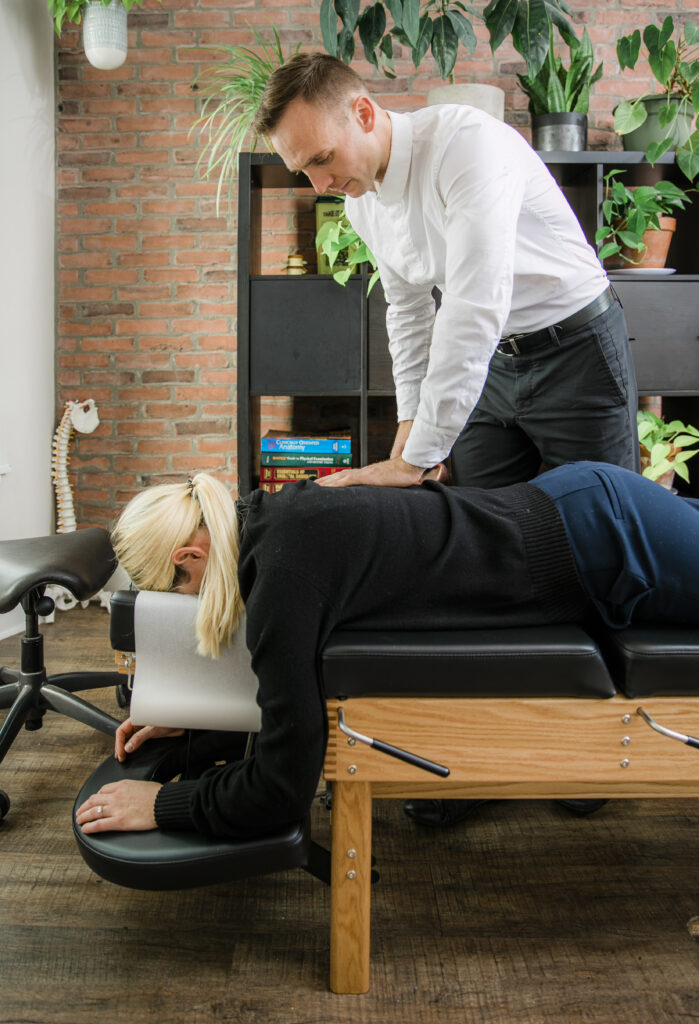 Every patient I consult with receives a
Complimentary Case Review so that we can understand you, your case, and identify if your case is something we might be able to help you with.
If Dr. Ritza feels it is warranted and you would like to proceed:
A Comprehensive

 NeurStructural Examination

consisting of 15 different tests to identify if there is a Core Problem with your spine and nervous system.
These tests include a Digital Structural Analysis, Advanced Mobility Testing,

NeuroMuscular Strength Testing

, Neurobiological Tests including Spirometry, Functional Movement Testing, and Advanced Palpation Analysis among others.

We ALWAYS perform a

head-to-toe assessment

. Whether repetitive strain or acute trauma, there is usually an underlying cause or compensation that needs to be identified. If you don't test, you are just guessing!

An expertly curated Analysis and Review of the data to give you suggestions and a comprehensive plan based on your goals and test results.
After an examination you can expect a:
A 

Detailed digital report and thorough in-person Review of Results with Dr Ritza. He will clearly explain your test results, any underlying problems that need to be addressed and what is necessary to fix them and reach your goals

A Comprehensive plan consisting of Corrective Chiropractic Care and Corrective Exercises that is customized to help you reach your goals
A thorough explanation of the financials and office policies and answers to any questions you might have before we take on your case. We always make sure that everyone is on the same page through each step of the process.
A guarantee that if we can't help you, we will find someone that can!
If you move forward with care / NeuroStructural Restoration.
You will receive exclusive access to our Core Curriculum. A step-by-step set of Corrective exercises, routines and digital resources that will help to transform how you move and feel – imagine the perfect core and spine!
A customized Corrective Exercise plan to rehabilitate your body
Care that is matched to your body type, preferences, force tolerance and goals. Every body responds differently to care – we get that.
You will be seen on time! We guarantee you will be seen within 15 minutes of your appointment time
A re-examination that is just as thorough as the first. Here we see if things have actually improved over only feel that way