Knee pain could be because of your back
I would like to tell you about Glen

Glen is a 45-year-old patient that came into the office to address his headache and low back pain issues after being encouraged (dragged in) by his wife who had seen success with similar issues under our care.
During Glen's Re-Examination he was happy to note how much better he felt thanks to more energy, fewer headaches, almost no back pain, and better sleep. But Glen was most pleased about the fact that the knee that had been bothering him with running, which he forgot to tell us about, wasn't bothering him with running anymore!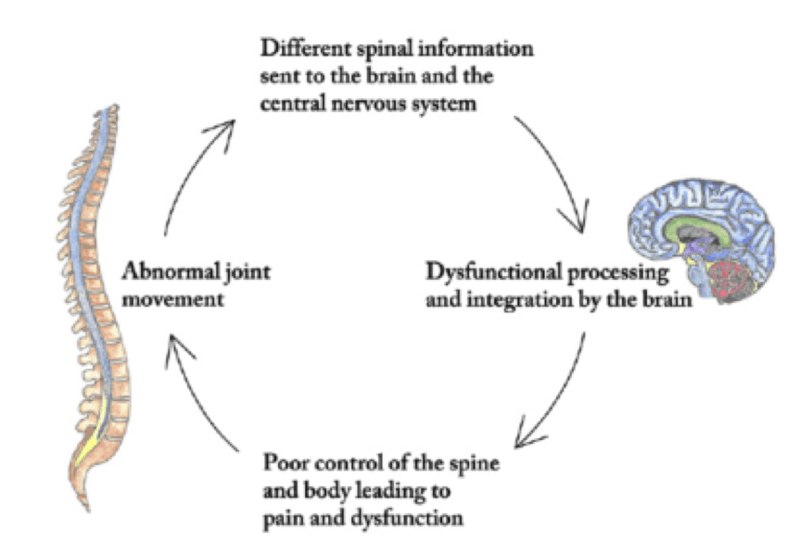 The most interesting thing about his revelation was that I never made any corrections to his knee and was primarily focusing on his spine
How the knee is affected by the spine
The only difference between Glen's lifestyle during his Corrective Care plan was that he was getting chiropractic care. So how and why would his knee symptoms improve just from a few corrections?
What else can happen when your spine isn't functioning properly?
To understand Glen's (and your) response to his corrections, we need to know a few things about the impact of chronic spine issues. In bold below, or in this VIDEO are some effects that research has consistently shown to happen when the spine is shifted:
Reduced joint awareness (proprioception) and control: GLEN's 

brain's control and protection of his knee would be reduced

Poor core activation and weakness: GLEN's gluteal and core muscles that control and protect his knee would be weaker. Runnings might want to read more about this research here

Reduced joint positioning sense: GLEN's running stride would almost certainly be affected by his spine causing poor compensations
Leg muscle weakness: no was this is good for GLEN's knee

Decrease reaction time and increased muscle fatigue would make GLEN more likely to injure his knee on a run

INCREASED SENSITIVITY TO PAIN: GLEN's knee might have hurt solely for the reason that his spinal cord was more sensitive to pain and the slightest bit of wear-and-tear in his knee that normally wouldn't bother him.

How chiropractic care affects the spine and knee
After a few weeks of correcting Glen's spine, it began to work and function better, which was proven by his awesome Re-Examination Results. As a result, all of the above problems went away or improved significantly, which allowed Glen's Brain-Knee connection to be re-established and his knee started to function properly. Proper function = no pain in this case.
What does Glen's case tell us? Corrections can help the body improve core strength, improve knee and joint coordination and make you less sensitive to pain
And whether it is knee pain, elbow pain, sleep, anxiety or something you might now even realize can change, corrections have a far-reaching effect beyond the spine
– Dr Alex
E-BOOKS AND WORKSHOPS:
HIP STRENGTHENING PROTOCOL found here
RECOVERY, SLEEP, MINDFULNESS, PURPOSE, VALUES: RECOVERY CURRICULUM DOWNLOAD and WORKSHOP
NUTRITION AND WHAT THE HECK YOUR BODY NEEDS TO BE HEALTHY: FUEL CURRICULUM DOWNLOAD
(AS ABOVE) MOBILITY, CORE STRENGTH, SPINE HEALTH, MOVEMENT: MOVE CURRICULUM DOWNLOAD and WORKSHOP