30 Nov

Losing 10 pounds, New Year's Resolutions and Your Cabin In The Woods
New Years And Why You Should Spend It In A Cabin In The Woods
Dr Alex Ritza – Your Downtown Toronto Chiropractor
CHIROPRACTIC CARE CONVENIENTLY LOCATED NEAR YONGE AND BLOOR
---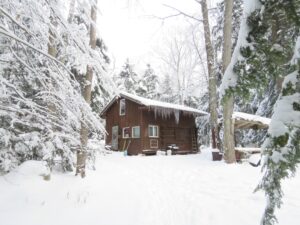 Tomorrow is the first day of December and it is time to start your New Years Resolutions! It's the time to get back into the gym. It's the time to spend more time with friends and loved ones. It's the time to start getting to bed earlier and finally get some more sleep. And it might be the time to really get serious about eating better and losing those extra pounds that have been on your mind.
I am not a month early, it is just that if you start thinking and enacting New Years Resolutions in a stupefied haze after waking up at 11:33am on January first it might be too late – the battle could be over before it even started!
There is a better way – it starts right now.
I want you to go to AirBnB. I want you to search for a cabin in the woods. I want you to find a place completely shutoff from the outside world. I want you to book said cabin in the woods (but not this one) for New Years Eve. Try to find something that will let you relax, reflect and give your uninterrupted time to yourself to rehash this year, determine in great specifics what you want to accomplish in 2017, and design a plan to get there.
I can tell you from experience that this is the best possible way to ring in a new year, but more about that in a second.
If you have plans, can't commit to the time away or fancy yourself as more of a Four Seasons Man / Woman, sometime in the next month I want you to book yourself a few hours at a metaphorical "cabin in the woods" that is all about you. No cell phone. No computer No interruptions. Just you!
5 Things Every New Years Resolution Needs
If you want a New Years Resolutions that are going to stick you are going to need time to yourself to thing
And if you truly want to make some lifestyle changes in 2017 then taking uninterrupted time to think, reflect and plan for the year ahead is the best and maybe only way to guarantee it yields the results that you want.
Once you have some time to yourself, I think there are 5 key steps to developing a really sound plan to making any lifestyle change
Look Deep. Take some uninterrupted time to figure out exactly what you want – not want society or your mom or your boss wants of you – what you want. If you want to genuinely run a half marathon than that is amazing but don't do something just to appease someone else. If you do, the odds are that by March it will be unlikely that you will still be determined and working on it.
Have a plan, backup plans, and backup-backup plans that are so specific you can taste them. Write everything down about what you want. Think about what each day's routine is going to look like to help you succeed. How it is going to feel? What are you specifically going to shoot for? What is your training program going to look like and who will your coaches be that will get you there? Who is on your health care team that is going to help you with an inevitable folly? What do you do if you have a misstep and deviate from your plan for a couple of weeks or a couple of hours? The more specific you are in your writing, the more likely you will be successful. 
Add don't subtract. It is much harder to take away a habit or vice than to add a good activity.
The Outcome Isn't The Goal – It is The Process. You are not going to measure how successful your resolution is based on the result. You are going to measure your success by how many checkmarks you get to lay down on your plan and backup plans. Lets say that you spend everyday for 12 months eating well, moving well, and consistently checking tasks off your "Lose-10 pounds-To-Do-List". You rarely miss a workout or cave on your meal plan and when you do, you stick to your backup plan. Regardless of what the scale shows on New Years Eve 2017, I can guarantee that you will be incredible proud for your new found energy, confidence, spirit and health that might not be reflected by a silly machine.
Have a team. No one becomes successful by themselves – no one. Teammates: Tell friends and family about your goal so that they can help you, provide accountability and encourage you. You need coaches: Have a team of "experts" to fill in knowledge gaps to make you more effective and efficient. You need a trainer: Have a team of people to keep your body right and help you when you get off track.
Richard's Cabin
Last year on NYE we drove up on a snowy and treacherous day to Baysville located just off of highway 11 between Bracebridge and Huntsville to Richard's Cabin.
Over the next three days we spent our time snow shoeing, reading, cooking by fire, using a really frigid latrine (read  as outhouse) and relaxing without electricity, running water or cell phone reception. It is hard to articulate just how relaxing it can be to hear nothing but the woods and to be removed from the possibility of ever being interrupted by a push-notification or e-mail.
Besides waking up refreshed for once to start the new year, the break provided some undivided hours to reflect, plan, write and organize some to-be successes for the year ahead.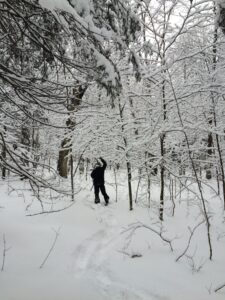 Success needs a plan and a plan needs time. I can say without reservation that besides being an amazing little trip with great food and exercise, there is no way that 2016 would have been as great as it was without those few hours in front of the fire with my Moleskin.
This planning takes time and unless you defy the odds with every New years Resolution, I really think it would help to take some "cabin in the woods time" to figure out what needs to change in 2017 and how you are going to get there.
If you need any help, just ask
–  Dr Alex
---
PS – if one of your goals is improved posture and to have fewer headaches, less pain and look better this is going to help you
WANT SOME MORE HELP WITH YOUR POSTURE?
DOWNLOAD MY FREE "DR RITZA'S POSTURE SELF ASSESSMENT TOOL" TO IMPROVE YOUR POSTURE IN TWO WEEKS